Thursday, December 2. 2010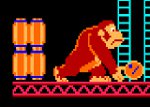 Recently, Nintendo released a new game called "Donkey Kong Country Returns" - I thought I'd take that as an opportunity to tell you a bit about it and it's main figure,
Donkey Kong
.
What's interesting about this is that it's a revival of a revival - the original game is almost as old as I am (from 1981, so I can't tell you about the "good old times" here). It was released on an arcade machine and later ported to several consoles. You played Mario in the game (yes, this was also the very first time Mario appeared in a video game) and had to rescue the princess from a big evil Gorilla. Not very creative, but who cares about game stories anyway, right? You had to jump over barrels to get to the gorilla.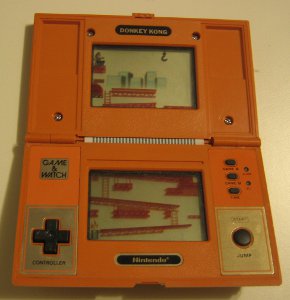 I think the first time I saw the game was this one. It is from the Game and Watch series, mobile devices that had just one game built in. The Game and Watch games had no real display, they were only able to switch some elements on and of. For that limitation, the games had surprising complexity (another one I really liked is the Super Mario Bros. 3 wrist band game). Still, it is far away (or let's say rather different) from the original game.
The second time I saw a Donkey Kong game was a (probably inofficial) remake in DOS. To be honest, it wasn't very good, but I had not many games at that time, so I played it a lot. You had to go up to the princess and after that, the gorilla threw something over the screen and you had to go down again, but now with fires and more holes. Sadly, I can't provide it to you as I didn't find it online (maybe I have it on an old CD, I'll have to look for that).
The very first time I played the "real" Donkey Kong was much later - 1992 Nintendo released the first two Donkey Kong games together as "Donkey Kong Classics" on the NES. There was also an advanced version for the Gameboy which featured the original Donkey Kong levels and about 100 more levels afterwards (I played through all of them).
1994 was the "first revival" - Nintendo released Donkey Kong Country on the Super Nintendo, a game which had impressive graphics and was a technical breakthrough at that time. It has not much in common with the original game beside the character and the fact that barrels still play an important role. A nice gimmick: It had a character called "Cranky Kong", who was said to be the "original Donkey Kong" from the old game. He was always grumbling that todays games are far to easy.
Now Nintendo is doing the second revival - interesting enough, it doesn't really use much of the possibilities the Wii offers. It is a classic jump and run game, very much like Donkey Kong Country (Nintendo just recently released "New Super Mario Bros", quite similar also a classic Mario jump and run). I like that. Though I played the game a bit and I must say I'm not highly impressed (at least yet). I'd rate it a nice game, but not a great game. But I also have to say that the old Donkey Kong Country is not on my all-time-favorite video games list. Maybe I'll tell you more when I played it longer.
What else? No blog about retro gaming without some links to really cool stuff:
A house with Donkey Kong design
(does anyone know where this is?
Donkey Kong in Lego
(have more? post links in the comments)
Tuesday, June 2. 2009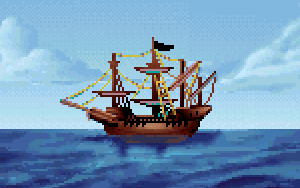 This news sounds sensational for all fans of old adventure video games: A
new episode of Monkey Island
is planned. Ron Gilbert
blogged about it
a few days ago.
For those who don't know, a very short history of the game series. The first two Monkey Island games were already classics when I played them the first time. In super-pixel graphics, but with an ingenious humor. Already with the third part, many fans were sceptical. Graphics got better, but not 3Dish, which was already pretty common at that time. They even made fun of the tendency to bring all games to 3D back then - they had a 3DFX option, but clicking on that only gave you some sarcastic comment. At least I can say that I found Monkey Island 3 (The Curse of Monkey Island) a deserved successor of the series.
With Monkey Island 4 (Escape from Monkey Island), things got much worse - it had 3D graphics (ugly ones in my opinion) and - probably worse - it completely changed the control. All classic adventures were point and click adventures through the famous SCUMM engine (although the control has changed quite a lot over the time). There even was a SCUMM bar in the first game.
Part 4 had some kind of keyboard control. And the controlling was really bad. So this was the first game in the series I didn't play till the end.
I'm excited to see how the new game will be. It will be released in episodes, I don't know if that's a good idea, but we'll see. I haven't found any information about the controls on their webpage.
Maybe it's worth raising a petition for a Linux version? Seems they don't intend to plan one, though it might be a good idea, as probably a lot of Linux users are retro gaming fans as well.
Friday, May 16. 2008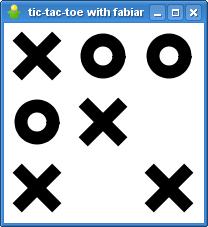 One of the missing features in jabber most commercial instant messaging systems have are small games one can easily play over them. Till now, because just yesterday, gajim got support for Tic Tac Toe over jabber.
Which reminds me tic tac toe was one of the first »programming projects« I did in the past, some day I'll have to dig out the sources and publish them. My next wish would be something like tetrinet over jabber.
Gajim-svn ebuild is in my overlay at
http://svn.hboeck.de/overlay/
.
Monday, January 28. 2008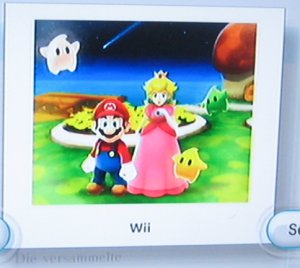 (Achtung Spoiler)
Hab jetzt mit Luigi alle 120 Sterne gesammelt. Danach kann man in einem finalen Leven (wobei es kein wirkliches Level ist, man läuft nur durch) noch einen 121. Stern einsammeln. Selbigen ebenso mit Mario.
Nach mehreren berichten im Internet passiert noch etwas wenn man 9999 Sternenteile hat, es sollen sich alle Melonen in Kokosnüsse verwandeln. Hab ich probiert, aber ich seh keinen Unterschied. Vielleicht nur ein Fake, sachdienliche Hinweise (evtl. Howto mit Fotos/Videos) können gerne in den Kommentaren hinterlassen werden.
Savegame zum Download
Tuesday, January 15. 2008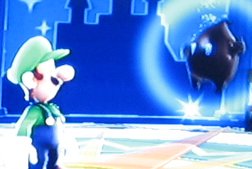 Endlich! Eben 120 Sterne abgeholt in Super Mario Galaxy. Und ein guter Anlaß, einen kleinen Rückblick auf das Spiel zu wagen.
Das Spiel wird vielfach mit Recht als legitimer Nachfolger von Super Mario 64 bezeichnet. Ich war ja nach kurzer Zeit schon etwas ungehalten und wollte das Spiel als viel zu leicht abqualifizieren, weil ich nach einer knappen Woche 60 Sterne und das erste Mal den End-Bowser erreichte. Aber wie bei Mario-Spielen üblich gibt es einen Unterschied von »zu Ende gespielt« und »richtig zu Ende gespielt« und bei Galaxy ist der besonders ausgeprägt. Nach 120 Sternen erhält man noch die Möglichkeit, das komplette Spiel mit Luigi erneut zu spielen, der eine leicht veränderte Steuerung hat (allein beeindruckend alle Levels bei aller Detailgetreue so zu gestalten, dass sie mit verschiedenen Figuren spielbar sind). Damit hat das Spiel eine Art Hard-Modus und knüpft an ganz alte Traditionen (Super Mario Bros) an.
(Sidenote: Hat Prinzessin Peach eigentlich mit beiden Brüdern was? Hat sich das schonmal jemand gefragt? Eine heimliche Propagandistin der Polyamorie?)
Überhaupt ist das ganze Spiel eine große Hommage an die Geschichte der Mario-Games. Unzählige Anspielungen, Neuauflagen und Abwandlungen alter Gegner, auch ein Pixel-Mario begegnet einem (und ein Pixel-Luigi, wohl das schwerste Level im ganzen Spiel). Die Schwerkraft-Spielchen machen Spaß, obwohl das ganze ein 3D-Spiel ist, gibt es nette 2D-artige Einlagen.
Naja, ich bin ja sonst furchtbar skeptisch was neumodische Spiele angeht (Cranky aus Donkey Kong Country hat sowieso Recht), aber Super Mario Galaxy konnte auch mich als jemanden, der sämtliche Klassiker durchgespielt hat, überzeugen.
P. S.: Ich melde es wenn mein Luigi die 120 Sterne erreicht hat.
Tuesday, November 20. 2007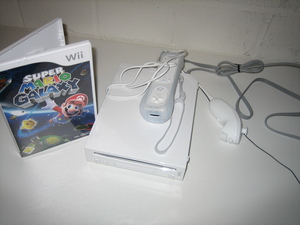 Ich glaub viel mehr brauch ich heute nicht zu schreiben. Hab ja ne Weile mit mir gerungen, aber nachdem ich vor einigen Tagen Super Mario Galaxy zum ersten mal im Laden sah, musste das Teil einfach her.
Sunday, November 11. 2007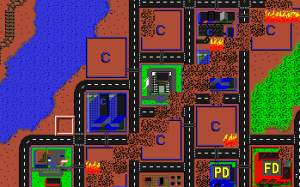 The One Laptop per Child project will soon release a free software version of the classic SimCity game. The company agreed to publish the code under a GPL-license. It'll however contain a clause that modified versions are not allowed to be named SimCity, else it's completely free software.
I think that's great news and would welcome it if more classic games could be freed. Computer games are their own form of culture and we need more projects to protect this kind of culture.
SimCity at the OLPCWiki
Thursday, November 1. 2007
I have a small collection of classic Nintendo Game and Watch devices, I once promised to put images online. I may add further old videogaming stuff I have.
Here they are
, not much, but at least from all generations. Especially the wrist watches from end 80s / beginning 90s are quite rare. If you see some devices somewhere and wanna donate something to me, that'd be a very good idea :-)
Wikipedia page about Gamen and Watch
is quite good, if you're looking for more info.
Sunday, July 8. 2007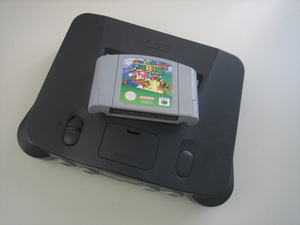 Ich wünsch mir so ein Gerät schon seit weit über 10 Jahren, gestern auf dem Flohmarkt erstand ich endlich einen Nintendo 64. Damit ist meine Nintendo-Konsolensammlung, bis auf die beiden aktuellen Geräte (DS und Wii), wieder vollständig.
Saturday, June 16. 2007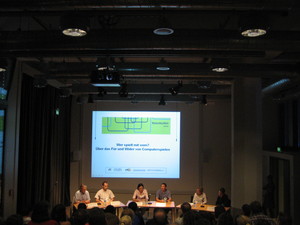 Sehr kurzfristig bekam ich heute mit, dass im ZKM eine
Podiumsdiskussion unter dem Titel »Wer spielt mit wem? Über das Für und Wider von Computerspielen«
stattfindet. Wurde leider wohl etwas mangelhaft beworben.
Inhaltlich sehr interessant, zur Abwechslung mal eine etwas sachlichere Diskussion zum Thema zu hören. Das Podium war besetzt von Leuten aus dem wissenschaftlichen Bereich, von Leuten aus der Gamer-Szene und aus der Jugendarbeit. Angesichts der Auswahl der Teilnehmer verlief das ganze recht harmonisch, alle waren insgesamt dem Phänomen Computerspiel eher positiv gegenüber eingestellt, es gab also keinen vom Niveau eines Christian Pfeiffer oder Günter Beckstein. Das tat dem ganzen aber glaub eher gut.
Aufgrund der Vielfalt der Diskussionsstränge fällt es mir schwer, eine Kurzzusammenfassung zu geben. Insgesamt war's jedoch sehr positiv und ich würde mir mehr solche Veranstaltungen wünschen. Ob's einen Mitschnitt gibt weiss ich jetzt nicht. Sollte einer auftauchen werd ich ihn gerne verlinken.
Saturday, March 10. 2007
Ich bin ja bekennender KDE und Konqueror-Fan, aber ein zentrales Feature fehlt: Das
DHTML-Lemmings
läuft hier nicht, weswegen man Firefox bemühen muss.
Escapa!
ist auch sehr nett und läuft auch im Konqueror.
Wednesday, October 11. 2006
Gestern haben wir (
Bernd
,
Ramon
und ich aka
LUG Backnang
) zusammen mit dem
Computerclub Waiblingen
einen Vortrag für Linux-Einsteiger organisiert. Da ich glaube, dass uns das ganz brauchbar gelungen ist und da wir uns durchaus über Nachahmer freuen würden, gibt's einen kleinen Bericht.
Programm hatten wir uns so gedacht, dass wir am Anfang eine Installation (Kubuntu) live vorführen, anschließend einige Programme für übliche Alltagsaufgaben präsentieren, etwas über WINE und insbesondere Spiele unter WINE erzählen und Compiz vorführen.
Besonders mutig wollten wir die Installation auf dem Laptop eines Freiwilligen vorführen, was auch prompt erstmal einige Probleme verursachte. Erst hatten wir scheinbar Pech mit unseren CDs (Originale von Canonical), anschließend weigerten sich mehrere Windows-Partitionen, sich verkleinern zu lassen oder hatten nicht genügend Platz frei.
Zu guter letzt fanden wir einen Laptop, dessen Windows wir komplett platt machen durften (macht ja auch am meisten Spaß so) und konnten mit einer funktionstüchtigen, gebrannten CD weitermachen (aber die Pannen ham doch einiges Schwitzen bei mir verursacht und nächstes Mal weise ich unsere Freiwilligen zumindest zeitig an, Scandisk und Defrag auszuführen).
Anschließend präsentierte Bernd einige Anwendungsprogramme. Am meisten beeindruckt hat wohl die Inkscape-Präsentation und die Live-Vektorisierung eines Logos (jaja, dezente Schleichwerbung ham wir auch hier und da untergebracht).
Ramon präsentierte in einigen Vortragsfolien die Geschichte und den aktuellen Entwicklungsstatus von WINE, während wir uns in den ersten Vorträgen mit MS-Bashing stark zurückgehalten hatten, kam das hier voll zum Zuge ;-). Hat aber glaub nicht geschadet, da es inhaltlich gut fundiert war.
Die Live-Präsentation von World of Warcraft scheiterte leider an den mangelhaften Grafikkarten unserer Laptops, wir hätten zeitig ein anderes WINE-fähiges Spiel vorbereiten sollen, haben wir aber leider versäumt, insofern mussten die Zuschauer mit Screenshots zufrieden gestellt werden. Spontan gelang es uns jedoch noch, einen Firefox für Windows per WINE zu installieren.
Ich zeigte noch einige Linux-Spiele (Planet Penguin Racer, Neverball, Frozen Bubble) und anschließend den obligatorischen Compiz-Desktop, was deutlich weniger Begeisterung als üblich hervorrief, lag aber wohl an der fortgeschrittenen Stunde. Anschließend haben wir Kubuntu (verschiedene Architekturen, x86, amd64 und ppc) und Kororaa (Live-System mit AIGLX/XGL) CDs verschenkt.
Rückfragen, die kamen und die von unseren Vorträgen nicht abgedeckt waren, kamen u. A. zu ELSTER, Audio-Recording (Audacity hatten wir spontan parat), diversen Kopierschutzverfahren, Musikshops und verschiedener Hardware.
Für Leute, die aus der Gegend kommen: Am 18. November organisieren wir in Backnang eine Installparty mit Ubuntu Edgy Eft.
Im
Wiki sammeln wir Feedback und Materialien
.
Tuesday, September 12. 2006
On Saturday, I was on the come2linux event in Essen, organized by the local linux user group.
Slides from my talk (3D-Desktop with Linux) can be downloaded
as ODP
and
as PDF
. It's a bit longer than my previous slides to that topic, because it was a »real« talk, not just a lightning one.
I had the strong impression that things are moving forward with linux on the desktop. One impression I had on my trip when I went into the magazine store in Düsseldorf mainstation, where the first thing I saw was a bunch of linux magazines. The GameStar (quite popular german computer game magazine) has a topic »Linux für Spieler« (which means Linux for Gamers).
The gaming-issue could be interesting, on the come2linux there was a quite big booth about linux gaming. Wine (the free/original one) is improving much in this area (although most people still refer to cedega when talking about games on linux).
Another thing I often notice is a growing interest in
CAcert
. The guys at the CAcert-booth were quite happy that I stayed there a while as I am able to give out 35 points (just
like Pylon on Sunday
). I had a CAcert sign and some cravat guys asked me to assure them when I walked around.