Entries tagged as language
Saturday, January 26. 2013, 11:51
Based on
the XKCD comic "Up Goer Five"
, someone made
a nice little tool
: An online text editor that lets you only use the 1000 most common words in English. And ask you to explain a hard idea with it.
Nice idea. I gave it a try. The most obvious example to use was my
diploma thesis (on RSA-PSS and provable security)
, where I always had a hard time to explain to anyone what it was all about.
Well, obviously math, proof, algorithm, encryption etc. all are forbidden, but I had a hard time with the fact that even words like "message" (or anything equivalent) don't seem to be in the top 1000.
Here
we go
:
When you talk to a friend, she or he knows you are the person in question. But when you do this a friend far away through computers, you can not be sure.
That's why computers have ways to let you know if the person you are talking to is really the right person.

The ways we use today have one problem: We are not sure that they work. It may be that a bad person knows a way to be able to tell you that he is in fact your friend. We do not think that there are such ways for bad persons, but we are not completely sure.

This is why some people try to find ways that are better. Where we can be sure that no bad person is able to tell you that he is your friend. With the known ways today this is not completely possible. But it is possible in parts.

I have looked at those better ways. And I have worked on bringing these better ways to your computer.
So - do you now have an idea what I was taking about?
I found this nice tool through
Ben Goldacre, who tried to explain randomized trials, blinding, systematic review and publication bias
- go there and read it. Knowing what publication bias and systematic reviews are is much more important for you than knowing what RSA-PSS is. You can leave cryptography to the experts, but you should care about your health. And for the record, I recently tried myself to
explain publication bias (german only)
.
Friday, November 9. 2012, 22:53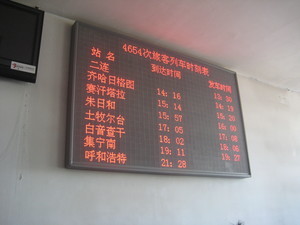 Just recently,
Microsoft research has made some progress in developing a device to do live translations from English into Mandarin
. I'd like to share some thoughts with you about that.
If you read my blog on a regular basis, you will know that
I traveled through Russia, Mongolia and China last year
. If there's one big thing I learned on this trip, it's this: English language is - on a worldwide scale - much less prevalent than I thought. Call me a fool, but I just wasn't aware of that. I thought, okay, maybe many people won't understand English, but at least I'll always be able to find someone nearby who's able to translate. That just wasn't the case. I spent days in cities where I met nobody that shared any language knowledge with me.
I'm pretty sure that translation technologies will become really important in the not-so-distant future. For many people, they already are. I've learned about the opinions of swedish initiatives without any knowledge of swedish just by using Google translate. Google Chrome and the free variant Chromium show directly the option to send something through Google translate if it detects that it's not in your language (although that wasn't working with Mongolian when I was there last year). I was in hotels where the staff pointed me to their PC with an instance of Yandex translate or Baidu translate where I should type in my questions in English (Yandex is something like the russian Google, Baidu is something like the chinese Google). Despite all the shortcomings of today's translation services, people use them to circumvent language barriers.
Young people in those countries are often learning English today, but it's a matter of fact that this will only very slowly translate into a real change. Lots of barriers exist. Many countries have their own language and another language that's used as the "international communication language" that's not English. For example, you'll probably get along pretty well in most post-soviet countries with Russian, no matter if the countries have their own native language or not. This also happens in single countries with more than one language. People have their native language and learn the countries language as their first foreign language.
Some people think their language is especially important and this stops the adoption of English (France is especially known for that). Some people have the strange idea that supporting English language knowledge is equivalent to supporting US politics and therefore oppose it.
Yes, one can try to learn more languages (I'm trying it with Mandarin myself and if I'll ever feel I can try a fourth language it'll probably be Russian), but if you look on the world scale, it's a loosing battle. To get along worldwide, you'd probably have to learn at least five languages. If you are fluent in English, Mandarin, Russian, Arabic and Spanish, you're probably quite good, but I doubt there are many people on this planet able to do that. If you're one of them, you have my deepest respect (please leave a comment if you are).
If you'd pick two completely random people of the world population, it's quite likely that they don't share a common language.
I see no reason in principle why technology can't solve that. We're probably far away from a StarTrek-alike universal translator and sadly evolution hasn't brought us the Babelfish yet, but I'm pretty confident that we will see rapid improvements in this area and that will change a lot. This may sound somewhat pathetic, but I think this could be a crucial issue in fixing some of the big problems of our world - hate, racism, war. It's just plain simple: If you have friends in China, you're less likely to think that "the chinese people are bad" (I'm using this example because I feel this thought is especially prevalent amongst the left-alternative people who would never admit any racist thoughts - but that's probably a topic for a blog entry on its own). If you have friends in Iran, you're less likely to support your country fighting a war against Iran. But having friends requires being able to communicate with them. Being able to have friends without the necessity of a common language is a fascinating thought to me.
Computer culture
,
English
,
Life
|
Comments (0)
|
Trackbacks (0)
Defined tags for this entry:
babelfish
,
china
,
chinese
,
english
,
googletranslate
,
language
,
mandarin
,
russia
,
russian
,
translation
,
travel
,
universaltranslator
Wednesday, July 13. 2011, 10:16
My Asia trip is over. I'll try to sum up some experiences I made.

In the end, we couldn't do a lot of things we had planned to do, especially for the China part of our trip. Due to a number of reasons, our approximate time plan completely didn't work. Sometimes this was due to a lack of information (e. g. not finding a ferry / a bus we've read about) and communication possibilities. A surprising problem was also the lack of internet information: It seems having a webpage is far less common in China, many transport operators, hotels or other venues had no internet presence at all, not even a chinese one.
Very time consuming were unplanned stops due to simple health problems like a cold.

I think I wrote that some times before, but I had never expected the difficulties with the language. The idea that English is some kind of "international communication language" is not very common in Russia and China - I think we stayed in a couple of cities where we didn't meet a single person we could talk to. I felt this was a great limitation for my possibilities to get to know those countries better.

Another unexpected difficulty was getting any medicine. I had thought that in any country in the world you should be able to get some equivalent medicine if you show the pharmacy personal the scientific name of the ingredient. This worked in Russia, but it didn't work in China - and I tried a lot of pharmacies. I suggest if you ever go to China, take everything you usually use to handle small issues like a cold or a headacke in large enough quantities.

In the preparation phase of the trip, I was often warned of safety issues like pickpocketing. This was almost a non-issue. Nothing was stolen from me and I don't remember even an attempt to do so, although we visited places like the Naran Tuul market in Ulaanbaatar, where everyone will tell you that pickpocketing is a big issue. I don't know if I was just lucky, but I had the feeling that using common sense and always looking after your belongings is enough to handle this.
(Page 1 of 1, totaling 3 entries)