Entries tagged as yekaterinburg
Monday, May 16. 2011, 16:39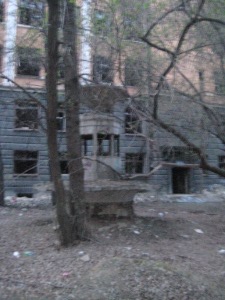 I am a bit behind with blogging my trip - not enough time, and if there's enough time, theres often not enough electricity or internet.
We stayed for two days in Yekaterinburg (Екатеринбу́рг), which is the first big asian city if you travel from Europe to Russia. Yekaterinburg is probably a place where international visitors rarely drop by.
We stayed at two couchsurfers who operate
a vegetarian shop
in an area where vegetarism is barely known at all. So if you are ever in Yekaterinburg and need some tofu or soy milk, be sure to visit their shop.
The most relevant and unpleasant event during our stay was our attempt to get a ticket for our further route. I first thought that this wouldn't be a big issue, as we can order online tickets. But, as I already mentioned before, this is not an option here. For reasons unknown to me, this only works if you board the train at its starting point. So we went to the train station to try to get a ticket. Without much knowledge of Russian language, this was a really tough task and took us several hours. We wrote down the train we wanted to take and some Russian sentences we took from a travel guide. We were sent from one counter to the other, several times the ticket counter closed or made a "15 minute" pause (which in fact were more like 45 minutes) just in front of us. All in all I don't really know when we started this, so I don't know how long it took, but after all, we had the tickets we wanted in our hands - and they were significantly cheaper than any online offer we saw.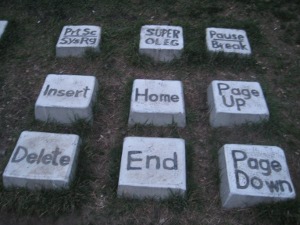 Beside the ticket buying, which took us half a day and limited the time we had to see the city, some interesting places worth mentioning:
- Yekaterinburg has a very geekish sight: A keyboard monument (some websites
like Wikitravel
call it the QWERTY monument, but I don't know if that's its official name) - a big keyboard made of stones (
map link
).
- We were shown an old hospital that was closed about 10 years ago and is now a place where adventurous people do
urban exploration
and locals tell horror stories about hidden subfloors. Most of the building is in very bad shape and some fountains around it give it a very special atmosphere. A small part of the building however is still operational (I don't know the exact place, but it must be
around here
).
A common thing to see in Yekaterinburg are trolley busses - busses that uses overhead wires.
What I experienced the first time here was a kind of real-world spam that seems to be common in Russia: In the pedestrian area, many shops used sound systems for advertisement. So you hear a lot of music and loudspeakers telling you the latest cheap offers all the time. Very disturbing.
We've continued our trip to Irkutsk, but I'll write about that later.
Pictures from Yekaterinburg
Wednesday, May 11. 2011, 09:58
After a 30 hour train trip, we arrived at Moscow Belorussky Terminal (Москва́ Белорусский вокзал). We stayed with some very nice
Couchsurfers
.
We stayed in Moscow for about two days. It'll mainly leave me with two impressions. First, Moscow is the most car-dominated city I've ever been (I've always considered Stuttgart and Berlin to be very car-dominated, but it doesn't compare). Big roads everywhere, loud and smoggy.
We stayed in Moscow at the 9th may, which is the most important holiday in Russia. It is the day that is known in middle europe as the 8th may due to timezone shift - the day the red army finally defeated Nazi-Germany. Since a few years, in Moscow there's a big military parade, which ends with a presentation of Russia's nuclear missiles. It gave me very mixed feelings. It's probably the best reason to celebrate that one can think of, though it seems wrong to me to celebrate nuclear missiles.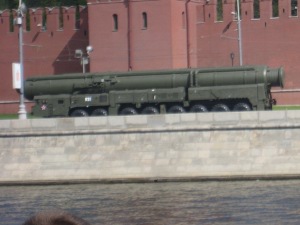 I read a lot that it's difficult for foreigners without russian language skills to get tickets at the station's offices. The offers you'll get if you book through travel agencies in Germany are usually totally overpriced and it's often impossible to book the 3rd class at all. We booked our tickets through
Real Russia
, a UK-based company selling tickets online. It's webpage is very useful, you can check train tables, fares and free space. We had no need to go anywhere or get the tickets via mail, as they just register our passport number and the train staff has a list with them, so your passport is your ticket. However, it seems this only worked for the first train and they don't offer that for the further trains.
Then we headed for the first part of the Transsiberian Railway - a 25 hour trip to Yekaterinburg (Екатеринбу́рг). While you can read in many travel guides that middle european tourists usually don't travel in the 3rd class, I was positively surprised by the quality. Everything was clean and nice. The only drawback: The bed was a bit short for my long legs. Luckily, I had the opportunity to get some more hours of sleep in a bed with an open end. Language was difficult: It seems nobody on the train was able to speak English or German. Everything went smooth, so there was no need for communication, but it may become difficult when problems arise.
While we're at it, a nice weblink:
Google has the full transsiberian route on video
with a map showing where you are.
Now we're in Yekaterinburg, shortly after the european-asian border. My first time in Asia.
Pictures from Moscow
Pictures from Berlin-Moscow train trip
(Page 1 of 1, totaling 2 entries)