Monday, October 1. 2007, 13:47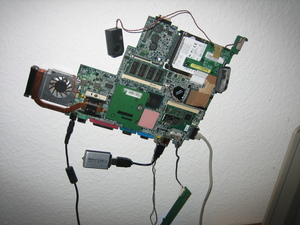 Recently, I did a bit of »modding« to my homeserver (an old P30 laptop, you may know that if you're regularly reading this blog).
I removed the case, which enabled me to remove some unneeded hardware to save energy. The touchpad, the internal modem and the front LEDs could easily be disconnected. The soundcard and the wireless card could also be removed, but they'll stay. The wlan will become a FreiFunk-node (stupid question: what's the english term for freifunk?). The soundcard makes it a perfect webradio player (and, for their mini-size, the quality of the speakers is quite acceptable).
Beside, the whole system now runs from a memory stick. A HD is still attached, but not used on normal operations. It tended to spin up without a reason, till I noticed that I still had smartd running. Now, the nice thing is, this device is now completely silent as long as I don't use the HD. Even if I run compile processes, the processor fan doesn't run. Seems that enough fresh air is sufficient to cool a Pentium M.
Another attractive feature is that I have three freely usable acpi-buttons, plus the three normal LEDs (caps, num, scroll). 3 LEDs, that makes 8 different LED-status combinations. My plan is now to use the three buttons, have 8 pre-programmed webradio channels and use one button for start/stop, one for switching channels. One is still left for creative purposes, volume control would be obvious, but that doesn't make much sense with one button. An idea would be to use the wlan-button and find a way to disable it's ability to switch the wlan-card on/off (at least a simple/hacky approach would be setting it back on as soon as it's switched off).
But that's not implemented yet, so don't ask for it. I'll publish it as soon as I've done that.
Comments
Display comments as (
Linear
| Threaded)
How about "Community-driven wireless mesh network"?

Why do you need the ability to switch of wi-fi?
Idea for the buttons: button 1 switches modes; mode 1: 2 increases volume, 3 decreases volumes, mode 2: 2 selects previous station, 3 selects next station, etc.
Wenn ich mich nicht täusche, dann solltest du normalerweise die ACPI-Buttons mehrfach belegen können. Also zumindest bei einem solltest du durch "drücken" und "gedrückt halten" jeweils einen unterschiedlichen Status bekommen.

Ansonsten könntest du natürlich generell mit einem Button quasi nur die Funktion auswählen, worauf die zwei anderen Buttons dann spezifisch reagieren. Also mehrere Anwendungen auf einen Button, die du als Liste durchläufst und dann eben zwei weitere Buttons für die Steuerung einzelner Features.
Und wenn du dir eine neue 2,5" Festplatte kaufst, dann wird die auch im laufenden Betrieb nicht laut. ;)

"the quality of the speakers is quite acceptable"
Klaro. ;)

"Freifunk" dürfte im Englischen einfach "Freifunk" bleiben oder eben "free radio".
Das mit dem drücken und gedrückt halten gibt leider keine unterschiedlichen events.

Das mit den Modi geht natürlich, macht die sache aber exorbitant komplizierter. Es sollte ja noch einigermaßen bedienbar sein.

Und wg. 2,5"-Festplatte: Im Moment ist das System "leise" im Sinne von "man hört einfach NICHTS". Wenn man alle anderen Geräuschquellen abschaltet, kannste daneben schlafen, wenn die übrigen LEDs nicht wäre würdest du nix merken. Und das dürfte keine Festplatte schaffen, höchstens ne SSD.
Okay, wenn du direkt daneben schlafen willst, dann ist es was anderes. Dann ist es u.U. schon zu laut.

Gemäß Google: Beim Power-Button kannst du > 4 s einen anderen Zustand erreichen als wenn du kürzer drückst. Das dürfte dir aber nicht dienlich sein. ;)

Unter /usr/src/linux-2.6.xx/drivers/acpi solltest du eine button.c finden. Dann kannst du ja mit deiner Idee loslegen.
Wie wäre es mit ner Compact Flash-Karte als IDE-Ersatz?

Und wegen den Buttons: Es gibt doch noch mindestens ein weiteres ACPI-Event, nämlich das Schließen des Deckels. Falls du den entsprechenden Schalter findest, könntest du nen Taster dran anlöten.

Ganz andere Idee: Kleines Mikro dran und Spracheingabe machen ;-)
#3.1.2
Randalf on 2007-10-04 17:43
Add Comment