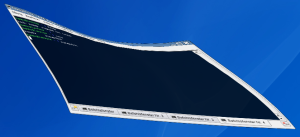 I've committed some updates to my xgl/aiglx-overlay. First of all, it now uses a git-ebuild for the xserver, because there have been some improvements (implementation of GLX_MESA_copy_sub_buffer) I wasn't able to backport easily. Then I've added an experimental patch to compiz autodetecting AIGLX, which removes the need for indirect and strict-binding parameters. Some other no longer needed patches removed. Get it with:
svn co http://svn.hboeck.de/xgl-overlay
Or, if you already have it, cd to it and
svn update
To use it properly, you'll need some entries in your /etc/portage/package.unmask (I've put a package.unmask.sample in the overlay root dir) for proper operation of the overlay:
x11-base/xorg-server
media-libs/glitz
x11-libs/cairo
dev-python/pycairo
(no longer needed)
Enjoy!