Saturday, July 21. 2012, 21:50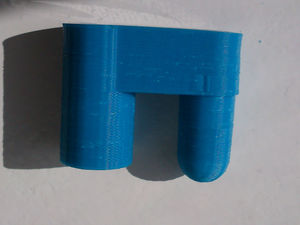 Several years ago I bought a kind of very simple wardrobe from IKEA. It's called Bardu and is made out of steel rods and a plastic covering. It stands on wheels.
There are small plastic piece that connects the plastic rods with the wheels. And one of them broke a while back. I went to IKEA and asked for a replacement part. They told me that they don't ship parts for such old items - but they have an offering quite similar to the Bardu that I could buy. Sadly, the design has changed and the wheels are directly connected, so no compatible replacement part. The E-Mail service from IKEA told me the same: No replacement parts for old products.
At this point I could've complained about the fact that we live in a crazy world where someone suggests to you buying a new piece of furniture because a small plastic part of the old one is broken.
I
posted a message in the RepRap-forum
asking for help. If you don't know the RepRap: It's a 3D-printer, creating objects based on computer models out of simple plastic. The RepRap is an Open Source project built partly out of parts printed on other 3D printers. The idea is: Everyone can (with enough time and passion) built his own RepRap, all the documentation is available online.
I quickly got a response from someone from France who was willing to give it a try and re-create the needed plastic part on his 3D printer. Some message exchange later I sent him the broken and a non-broken part. Today, I got my RepRap-printed replacement part. It fits in perfectly. I'm seriously impressed.
Object on Thingiverse
Update (2012/12/11):
I don't want to hide the fact that the whole issue turned out to be much trickier than thought. The original piece broke after a while. DeuxVis was so nice to experiment with likely more stable designs and sent me some more printed parts, but the first one already broke again. You can
read the details in the RepRap-forum
.
Wednesday, June 4. 2008, 23:05
Zum Thema Rapid Prototyping und dessen möglicherweise gravierenden gesellschaftlichen Auswirkungen las ich das erste mal in einen
Text der Zukunftswerkstatt Jena
, der im sehr lesenswerten Büchlein »Herrschaftsfrei Wirtschaften« veröffentlicht wurde (welches es auch
komplett zum Download
gibt).
Aber der Reihe nach: In der Debatte um freie Software, speziell in eher politisierten Kreisen (Stichworte sind hier etwa Ökonux oder das
Keimform-Blog
), wird des öfteren die Frage aufgeworfen, ob die Art und Weise, wie freie Software produziert wird, nicht als Modell für gesellschaftliches Wirtschaften insgesamt herhalten kann. Dabei wird oft der Begriff »Keimform« aus der Wertkritik gebraucht, der etwas bezeichnet, was zwar im bestehenden Kapitalismus und dessen Kontext stattfindet, aber erste Züge anderer Strukturen aufweist.
Nun stellt sich naiverweise erstmal die Herausforderung, dass immaterielle Güter (Software, Musik, Text) mit vernachlässigbarem Aufwand kopiert werden können, insofern die Adaption der Prinzipien freier Software hier nahe liegt (bestes Beispiel die Wikipedia), im Gegensatz dazu natürlich materielle Güter hier herausfallen, weil sie immer noch einen vergleichsweise großen Produktionsaufwand pro Stück besitzen.
Die Science-Fiction-lastig anmutende Frage »Lässt sich das ändern?« bringt uns nun zurück zum Thema Rapid Prototyping. Damit werden Verfahren bezeichnet, komplett automatisiert Gegenstände zu erschaffen, im einfachsten Beispiel etwa die (schon länger technisch machbaren) 3D-Drucker, die Kunststoffgebilde nach Computervorbild erschaffen können. Weiter gedacht könnten derartige Gerätschaften, wenn sie mit unterschiedlichen Materialien arbeiten, auch zur Produktion komplexerer Geräte genutzt werden.
Das Ziel, was sich vor einigen Jahren der Wissenschaftler Adrian Bowyer setzte, lautet nun: Eine Maschine, welche in der Lage ist, sich selbst neu zu erschaffen. Sozusagen vergleichbar mit dem Schritt, als der erste Compiler lernte, sich selbst zu übersetzen.
Heute
vermeldet Golem
, dass es erstmals gelungen ist, einen sogenannten RepRap dazu zu bringen, sich selbst zu reproduzieren. Von der Gesellschaft freier Güter mögen wir sicher noch ein Stück entfernt sein, sollte der RepRap allerdings tatsächlich das leisten, was seine Erfinder vermeldeten, sind wir ihr möglicherweise ein gutes Stück näher.
Achja: Der
RepRap
steht mit der GPL selbstverständlich unter einer freien Lizenz.
(Page 1 of 1, totaling 2 entries)