Wednesday, January 5. 2011, 21:24
If you've read my last blog entry, you saw that I was struggling a bit with the fact that I was unable to create a PGP key without SHA-1. This is a bit tricky, as there are various places where hash functions are used within a pgp key:
1. The key self-signatures and signatures on other keys. Every key has user IDs that are signed with the master key itself. This is to proofe that the names and mail adresses in the key belong to the keyholder itself and can't be replaced my a malicous attacker.
2. The signatures on messages, for example E-Mails.
3. The preference in side the key - this indicates to other people what sigature algorithms you would prefer if they send messages to you.
4. The fingerprint.
1 is controlled by the setting cert-digest-algo in the file gpg.conf (for both self-signatures and signatures to other keys). 2 is controlled by the setting personal-digest-preferences. So you should add these two lines to your gpg.conf, preferrably before you create your own key (if you intend to create one, don't bother if you want to stick with your current one):
personal-digest-preferences SHA256
cert-digest-algo SHA256
3 defaults to SHA256 if you generate your key with a recent GnuPG version. You can check it with
gpg --edit-key [your key ID]
and then
showpref
. For 4, I think it can't be changed at all (though I think it doesn't mean a security threat for collission attacks - still it should be changed at some point).
It is also not really trivial to check the used algorithms. For message signatures, if you verify them with
gpg -v --verify [filename]
. For key signatures, I found no option to do that - but a workaround: Export the key whose signatures you'd like to check
gpg --export --armor [key ID] > filename.asc
. Then parse the exported file with
gpg -vv filename.asc
. It'll show you blocks like this:
:signature packet: algo 1, keyid A5880072BBB51E42
	version 4, created 1294258192, md5len 0, sigclass 0x13
	digest algo 8, begin of digest 3e c3
The
digest algo 8
is what you're looking for. 1 means MD5, 2 means SHA1, 8 means SHA256. Other values can be looked up in
include/cipher.h
in the source code. No, that's not user friendly. But I found no easier way.
The big question remains: Why is this so complicated and why isn't gnupg just defaulting to SHA256? I don't know the answer.
(Please also have a look at
this blog entry from Debian
about the topic)
Sunday, December 26. 2010, 18:16
Having used my PGP key
3DBD3B20
for almost eight years, it's finally time for a new one:
4F9F43A9
. The old primary key was a 1024 bit DSA key, which had two drawbacks:
1. 1024 bit keys for DLP or factoring based algorithms are
considered insecure
.
2. It's impossible to set the used hash algorithm to
anything beyond SHA-1
.
My new key has 4096 bits key size (
2048 bit is the default of GnuPG since 2.0.13
and should be fairly enough, but I wanted some extra security) and the default hash algorithm preference is SHA-256. I had to make a couple of decisions for my name in the key:
1. I'm usually called Hanno, but my real/official name is Johannes.
2. My surname has a special character (ö) in it, which can be represented as oe.
In my previous keys, I've mixed this. I decided against this for the new key, because both my inofficial prename Hanno and my umlaut-converted surname Boeck are part of my mail adress, so people should still be able to find my key if they're searching for that.
Another decision was the time I wanted my key to be valid. I've decided to give it an expiration date, but a fairly long one: 10 years from now.
I've signed my new key with my old key, so if you've signed my old one, you should be able to verify the new one. I leave it up to you if you decide to sign my new key or if you want to re-new the signing procedure. I'll start from scratch and won't sign any keys I've signed with the old key automatically with the new one. If you want to key-sign with me, you may find me on the 27C3 within the next days.
My old key will be valid for a while, at some time in the future I'll probably revoke it.
Update:
I just found out that having a key without SHA-1 is trickier than I thought. The self-signatures were still SHA-1. I could re-do the self-signatures and revoke the old ones, but that'd clutter the key with a lot of useless cruft and as the new key wasn't around long and didn't get any signatures I couldn't get easily again, I decided to start over again: The new key is
BBB51E42
and the other one will be revoked.
I'll write another blog entry to document how you can create your own SHA-256 only key.
Cryptography
,
English
,
Gentoo
,
Linux
,
Security
|
Comments (3)
|
Trackbacks (0)
Defined tags for this entry:
cryptography
,
datenschutz
,
encryption
,
gnupg
,
gpg
,
key
,
pgp
,
privacy
,
schlüssel
,
security
,
sha1
,
sha2
,
verschlüsselung
Tuesday, December 14. 2010, 15:47
Prologue of this story: A very long time ago (2004 to be exact), I decided to create a new PGP / GnuPG key with 4096 bits (due to
this talk
). However, shortly after that, I had a hardware failure of my hard disc. The home was a dm-crypt partition with xfs. I was able to restore most data, but it seemed the key was lost. I continued to use my old key I had in a backup and the 4096 key was bitrotting on keyservers. And that always annoyed me. In the meantime, I found all private keys of old DOS (2.6.3i) and Windows (5.0) PGP keys I had created in the past and revoked them, but this 4096 key was still there.
I still have the hard disc in question and a couple of dumps I created during the data rescue back then. Today, I decided that I'll have to try restoring that key again. My strategy was not trying to do anything on the filesystem, but only operate within the image. Very likely the data must be there somewhere.

I found a place where I was rather sure that this must be the key. But exporting that piece with dd didn't succeed - looking a bit more at it, it seemed that the beginning was in shape, but at some place there were zeros. I don't know if this is due to the corruption or the fact that the filesystem didn't store the data sequentially at that place - but it didn't matter. I had a look at the file format of PGP keys in
RFC 4880
. Public keys and private keys are stored pretty similar. Only the beginning (the real "key") part differs, the userid / signatures / rest part is equal. So I was able to extract the private key block (starting with 0x95) with the rest (I just used the place where the first cleartext userid started with my name "Johannes"). What should I say? It worked like a charm. I was able to import my old private key and was able to revoke it. Key 147C5A9F is no longer valid. Great!
P. S.: Next step will be finally creating a new 4096 bit RSA key and abandoning my still-in-use 1024 bit DSA key for good.
Thursday, March 5. 2009, 19:28
Ich hatte vor kurzem per eMail Kontakt mit der AOK Berlin.
Durchaus gross war meine Überraschung, als ich von dieser eine Mail bekam, die PGP-Verschlüsselt war. Wohlgemerkt, ich hatte nicht mit irgendeiner Security- oder Computerabteilung, sondern mit der gewöhnlichen Kundenbetreuung zu tun. Da mein Initialkontakt via Webformular stattfand, war auch keine Mailsignatur von mir dort angekommen, insofern kann ich nur annehmen, dass deren Mailsystem automatisiert auf einem Keyserver meinen Key gesucht hat und diesen verwendet. Oder ein motivierter Mitarbeiter hat diesen hier von der Webseite.
Dass sämtliche Mails an Mailadressen, für die Schlüssel existieren, automatisiert verschlüsselt werden, kann ich mir kaum vorstellen, weil hier erstens vermutlich ein erheblicher Supportaufwand entsteht (passiert mir selber ja oft genug dass ich Nachrichten der Form »bitte nicht verschlüsseln, ich hab meinen Key verlegt / grad nicht da«) und zweitens ja die Mailadressen in den Keys in keinster Weise verifiziert werden. Allerdings existiert beispielsweise das PGP Global Directory, in dem nur Keys mit regelmäßig verifizierten Mailadressen landen. Das erscheint mir im Moment die plausibelste Erklärung.
Auch wenn ich nicht genau weiss, wie die AOK an den passenden Key kam, lobenswert finde ich es allemal, dass sich zur Abwechslung mal jemand in einem aus Datenschutzgründen sehr sensiblen Bereich von selbst um verschlüsselte Kommunikation bemüht.
Monday, April 21. 2008, 02:21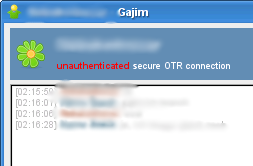 In the instant messaging world, encryption is a bit of a problem. There is no single standard that all clients share, mostly two methods of encryption are out there: pgp over jabber (as defined in the xmpp standard) and otr.
Most clients only support either otr (pidgin, adium) or pgp (gajim, psi), for a long time I was looking for a solution where both methods work. psi has otr-patches, but they didn't work when I tried them. kopete also has an otr-plugin, but I've not tested that yet.
Today I found that there is an
otr-branch of gajim
, which is my everyday client, so this would be great. As you can see on the picture, it seems to work on a connection with an ICQ user using pidgin.
I've created some ebuilds in my overlay (the code is stored in bazaar, I've copied the bzr eclass from the desktop effects overlay):
svn co https://svn.hboeck.de/overlay
Tuesday, October 5. 2004, 15:42
Yesterday I created a new PGP/GPG-Key for secure communication.
The default gnupg keys are 1024 bit DSA (Data Security Algorithm, based on the discrete logarithm problem). According to studies by famous cryptographs like Dan J. Bernstein or Adi Shamir, keys with 1024 bit for public key encryption based on factorisation or the discrete logarithm problem might be unsecure. Large institutions or companies with several millions available might be able to create special hardware to break such keys.
See
http://www.cryptolabs.org/rsa/
for details.
You can get my new key, Key-ID --------, here. It is signed with the old one.
Key no longer used, use
BBB51E42
.
(Page 1 of 1, totaling 6 entries)