Entries tagged as fosdem fosdem2010 freesoftware linux reprap makerb
Related tags
No related tags.
Sunday, February 7. 2010, 10:34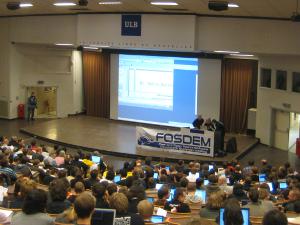 After reading a lot about interesting stuff happening at this years
FOSDEM
, I decided very short term to go there. The FOSDEM in Brussels is probably one of the biggest (if not the biggest at all) meetings of free software developers. Unlike similar events (like several Linuxtag-events in Germany), it's focus is mainly on developers, so the talks are more high level.
My impressions from FOSDEM so far: There are much more people compared when I was here a few years ago, so it seems the number of free software developers is inceasing (which is great). The interest focus seems to be to extend free software to other areas. Embedded devices, the BIOS, open hardware (lot's of interest in 3D-printers).
Yesterday morning, there was a quite interesting talk by
Richard Clayton
about Phishing, Scam etc. with lots of statistics and info about the supposed business models behind it. Afterwards I had a nice chat with some developers from
OpenInkpot
. There was a big interest in the
Coreboot
-talk, so I (and many others) just didn't get in because it was full.
Later Gentoo-developer
Petteri Räty
gave a talk about "How to be a good upstream" and I'd suggest every free software developer to have a look on that (I'll put the link here later).
I've just attended a rather interesting talk about 3D-printers like
RepRap
and
MakerBot
.
(Page 1 of 1, totaling 1 entries)