Sunday, July 17. 2011, 22:30
I have promised to write something about the route we had planned to take for the way back from China to Europe. We had several variants in mind, I'll list them all. All of them, however, have in common that they start in Ürümqi (乌鲁木齐, ئۈرۈمچی) - and as I already wrote, the train line to Ürümqi seems to be a bottleneck - it was booked out for an unknown amount of time.
Ürümqi is a town in the Uyghur province of China in the north-west. It is north of the Taklamakan desert. China's population is not evenly spread through the country. Most of the population lives in the eastern part. The west is sparsely populated and Ürümqi is one of the very few big cities in the west.
From Ürümqi, there are several options to go to Kazakhstan - there exist trains and busses both to Astana (Астана, أستانا), the current capital of Kazakhstan, and Almaty (Алматы, الماتى), the former capital.
Variant a: Twice through russia (our preferred option).
From Astana, there is a train directly to Kiev (Київ) in Ukraine. The train goes twice through russia. Once it scratches it before Oral / Uralsk (Орал). I think it doesn't even stop there. The other time it goes through the Caucasus region.
It should've been possible to buy the train ticket in Astana and then get a transit express visa in the russian consulate. I read some reports suggesting that EU people were able to do this. However, I was not entirely sure about that: Usually, a russian transit visa only allows to pass the country a single time. I don't know if crossing the country twice would've posed any problems.
Astana to Kiev is quite long - stopping was a problem, because you can only get the transit visa once you have the ticket for the whole journey. So our plan was to take the train just to Kharkiv (Харків) in the east of Ukraine. This would've limited the train trip to a bit more than two days. Still a lot, but acceptable for me.
Variant b: Once through russia.
Oral/Uralsk (Орал) in western Kazakhstan has its own russian embassy. As stated above, the train from Astana to Oral already crosses russia, but there's a way round: One can first take the train to Atyrau (Атырау) and then to Oral. This way, you don't leave Kazakhstan. The advantage: Lots of options to make stops, no overly long train trips.
The problem with this variant was that I had almost no information about the consulate in Oral: I haven't read a single report online that any EU citizen tried or successfully applied for a transit visa there. I only found some people asking that question, but without answers. So it was quite unsure if this would work.
Variant c: Avoiding russia altogether (option we originally intended to take).
It is also possible to avoid passing russia altogether. One can go by train to Atyrau (like in variant b), but then take a train on to Aktau (Ақтау) at the caspian see. From Aktau, there is a
ferry service
to Baku in Azerbaijan.
Now, this "ferry" has its own problems: It has no regular schedule. In fact, from what I read its no real ferry at all, but a cargo ship. It starts when there's enough cargo. So you have to get there and ask every day if there will be a ship today. Waiting times rank between some days and two weeks. I had liked to take that option, because I like travelling by ship and I thought that sounded like an interesting experience.
From Azerbaijan, one could take a train to Tbilis in Georgia and continue by bus to Istanbul in Turkey. From there, there is a train to Austria (the orient express sadly doesn't exist any more).
We had our visas ready for Kazakhstan and Azerbaijan. Georgia and Turkey are visa free for EU citizens.
If you look at a map, you may notice that there's another option: Going from Kazakhstan to Turkmenistan and Iran. However, that would've imposed getting two more visa plus the feeling that travelling through Iran might be a risk. So I haven't really investigated that option very much.
Sunday, July 3. 2011, 12:23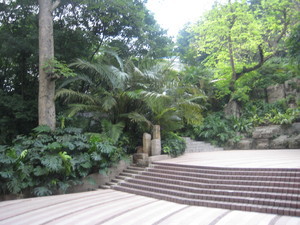 While going on to the south of China, we had a short stop in Guangzhou (广州). It is the third largest city in the country and the center of the cantonese part of China. At this time of the year, the climate in Guangzhou is very extreme, which we suddenly experienced when we left the train: Very hot and very humid.
Our original plan was to take the ferry to Haikou (海口) on Hainan (海南) island, but that failed because we were unable to find the ferry. First a taxi driver told us that the ferry doesn't exist at all. We then tried to find it at Huangpu port like it's statet on various internet pages, but there was no ferry and nobody could tell us anything useful about it. The information about Huangpu port you can find online (both place and days/times) is probably outdated. Although we didn't take the ferry at the end, if you find this information helpful to my best knowledge this should be correct (information from Haikou port and tourist information):
Haikou (海口) Xiuying (秀英港) port to Guangzhou Shazaidao port - starting from 2nd of every month every three days, 14:00
Guangzhou Shazaidao port to Haikou (海口) Xiuying (秀英港) port - starting from 3rd of every month every three days, 16:00
Price per person: ¥ 130 / ¥ 180 / ¥ 220 / ¥ 260 / ¥ 300 / ¥ 450 (room with more than 16 / 8-16 / 8 / 4 / 2 / 2 beds). Trip takes approximately 19 hours.
We also didn't take the ferry for our way back, as I already wrote, a typhoon stopped us from doing so.
On our unplanned one day stop in Guangzhou, we visited the Yuexi park (越秀公园). It is the largest urban park in China and it was a nice opportunity to see the tropical plant life in that area.
Guangzhou pictures
(not many)
Guangzhou Yuexi park pictures
Tuesday, May 24. 2011, 16:46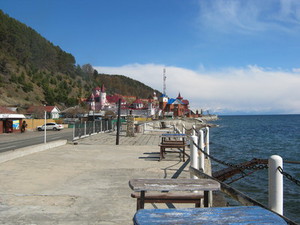 After being in Irkutsk, we headed on to lake Baikal. Although we heared that it's worthwile to visit the nature reserves in the north of the lake, we decided against it, as all options to get there would've involved quite long bus trips.
Listwjanka (Листвянка) is a very tourist oriented village where the Angara River goes into lake Baikal. However, we were there completely out of season. I don't know if there was anyone else in the cheap Hotel we stayed, at least we saw noone else and the older couple running the Hotel seemed to be quite happy with having guests. This was the first time I stayed in a Hotel without any language communication possible.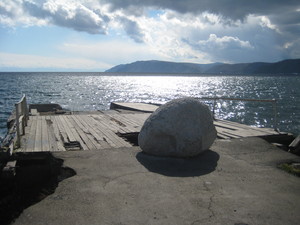 Listwjanka is connected with Port Baikal at the other side of the Angara with a ferry. Listwjanka is not very big, but it's spread several kilometers on the lake's shore. The ferry terminal was somewhat special. I wouldn't have noticed it as being in operation if I hadn't known exactly where it was. There was an old place to board the ferry where already some holes where in the ground and a big rock prevented any cars from getting on it. The ferry just boarded right beside that place. The timetable consisted of a piece of printed paper in plastic.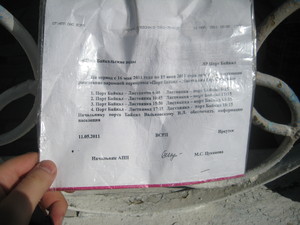 Port Baikal is really small. It wasn't even possible to get a coffee there, it only has some small shops (where we got some very good baked sweets). It is the starting point of the circum baikal railway line. We had to stay several hours, because the ferry only goes a few times a day. Port Baikal gave us a feeling of seeing Russian live in a small village. Some cows were just walking on the "streets" (no paved roads here). I assume Port Baikal has no water supply, as many people were getting water from a pump near the train station.
Pictures from Listwjanka
Pictures from Port Baikal
Thursday, October 16. 2008, 12:44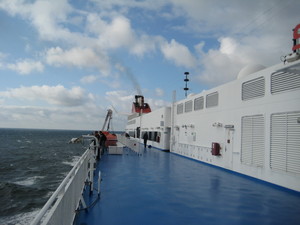 I'm currently on a ferry trip to Helsinki.
The next days, I'll be on the
Nuclear weekEND
near the finnish nuclear plant Loviisa. It's a meeting of anti nuclear activists with international participation. Finland is currently trying to build the first nuclear plant since many years in a western country (I say trying, because the Olkiluoto plant is about two years behind it's time table).
There's a
german press release
about the event.
A week later, I'll visit the
Alternative Party
, a small demoscene party in Finland. I was on the
Assembly
some times in the past and always wanted to take the chance some day to see the AltParty.
(Page 1 of 1, totaling 4 entries)