Entries tagged as environment
Thursday, January 27. 2011, 21:22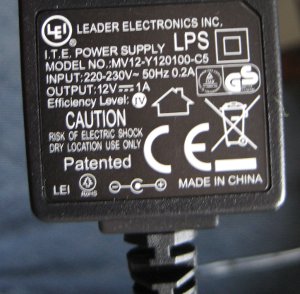 I already wrote in the past that a couple of times that I'm worried about the
insane high energy consumption of DSL and WLAN hardware
that's supposed to run all the time.
Recently, I switched my internet provider from O2 to Kabel Deutschland and got new hardware. I made some findings I found interesting:
It seems very many power supplies today have a
label on their energy effiency
. If you find something called "EFFIENCY LEVEL: V" - that's it. V is currently the best, I the worst. Higher values are reserved for the future (so this is much more intelligent than the stupid EU energy label, where A stands for "this was the best when we invented this label some years ago"). I haven't tried that yet, but from what I read it seems worth replacing inefficient power supplies with better ones.
The cable modem I got eats 4 Watts. Considering that it's the crucial part that cannot be switched off as long as I want to be able to receive phone calls, I consider this rather high. The power supply had effiency level IV. If anyone knows of any energy saving cable modems, I'm open for suggestions.
I was quite impressed by the router I got for free. It's a D-Link 615 and it's using 2,4 Watts with wireless and 1,4 Watts without. That's MUCH better than anything I've seen before. So at least we see some progress here. (and for people interested in free software: it seems at least
DD-WRT claims to support it
and the other *WRT projects are working on it)
Though I still fail to understand why there can't be a simple law stating that every electronic device must put information about it's energy consumption on the package.
Ecology
,
English
,
Linux
|
Comment (1)
|
Trackbacks (0)
Defined tags for this entry:
cablemodem
,
climate
,
d-link
,
ecology
,
efficiency
,
eletricity
,
environment
,
kabeldeutschland
,
o2
,
router
,
strom
,
stromverbrauch
,
umwelt
Sunday, October 3. 2010, 13:44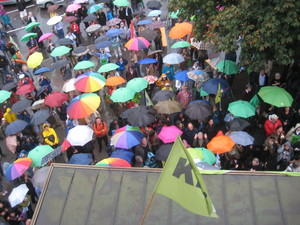 Ein
(ausgesprochen schlechter) Artikel bei der Tagesschau
, der den Wiener mit dem Stuttgarter Bahnhofsneubau vergleicht, brachte mich auf einige Gedanken über Besonderheiten des Protests gegen Stuttgart 21.
Im Normalfall geht man eigentlich davon aus, dass Massenproteste gut funktionieren, wenn sie eine einfache Message haben. Als Grund hierfür wird etwa häufig angegeben, dass es einem in den Medien meistens nur gelingt, eine sehr kurze Nachricht unterzubringen. "Gegen AKWs, denn sie sind gefährlich" wäre ein solches Beispiel. Damit hat man zwar noch nicht jeden überzeugt, aber es ist zumindest sofort klar, worum es geht. "Gegen Grundlastkraftwerke, weil sie aufgrund ihrer Unflexibilität den Ausbau der erneuerbaren Energien blockieren und damit schädlich für den Klimaschutz sind" wäre jetzt in dem Themenbereich das Gegenbeispiel – das zu erklären, da braucht man schon ein paar Minuten.
Nun scheint mir aber der Stuttgarter Protest ein eklatantes Gegenbeispiel – die Message ist alles andere als kurz und einfach. Die Menschen sind gegen einen Bahnhofsneubau – aber nicht weil sie gegen Bahnhöfe sind. Die Proteste werden ganz wesentlich von Fahrgast- und Umweltverbänden getragen, die sich für besseren Bahnverkehr einsetzen. Auch nicht weil sie gegen Bahnhofsmodernisierung sind – eines der Protestsymbole ist ja das
K21
-Logo, welches für das Konzept eines optimierten Kopfbahnhofes steht.
Die Motivation lässt sich ungefähr so zusammenfassen: Die Menschen sind gegen Stuttgart 21, weil sie die Befürchtung haben, dass hier gut funktionierende Bahninfrastruktur durch schlechter ersetzt werden soll (8 statt 16 Gleise). Sie sind außerdem dagegen, weil die Kosten bereits jetzt aus dem Ruder laufen und darunter andere Bahnprojekte (sowie Sozial- und Kulturausgaben) zu leiden haben.
Die Redebeiträge auf den Demos sind vergleichsweise inhaltlich komplex. Das letzte Mal, als ich dabei war, sprach ein Energiewissenschaftler (Dr. Joachim Nitsch) über die Auswirkungen des Güterverkehrs auf den Klimawandel. Das mal davor ein Geologe (Dr. Jakob Sierig) über die Gefahren des Quellgipses im Stuttgarter Untergrund. Das ist jetzt natürlich kein komplettes Alleinstellungsmerkmal, aber (ohne das empirisch überprüft zu haben) die Zahl der Menschen mit wissenschaftlichem Hintergrund bei den Rednern finde ich schon bemerkbar.
Spüren tut man die vergleichsweise Komplexität des Themas oft daran, dass Menschen, die nicht aus Stuttgart kommen,
oftmals eher ratlos
auf die Proteste reagieren.
Von den Auswirkungen habe ich das Gefühl, dass das eine ganz große Stärke der Proteste ist. So wirkt es einigermaßen hilflos, wenn man den Protesten vorwirft, sie hätten ja keine Ahnung. Jedem halbwegs informierten Beobachter ist sofort klar, dass Frau Merkel noch viel weniger Ahnung hat, wenn sie den Grünen vorwirft, sie seien ja sonst immer für die Bahn und hier plötzlich nicht. Auch ist ein Artikel wie der oben zitierte bei der Tagesschau natürlich völlig absurd: Abgesehen davon, dass in Wien auch ein Kopfbahnhof durch einen Durchgangsbahnhof ersetzt werden soll, haben die beiden Projekte
praktisch nichts miteinander gemeinsam
.
Und das Überraschende: Es funktioniert total gut. Es gelingt den Protesten, über mehrere Woche zehntausende auf die Straßen zu mobilisieren. Wohlgemerkt in einer Region, die bislang nicht unbedingt für Massenproteste bekannt war.
Eine wirkliche These, warum das so ist, habe ich noch nicht. Eine (optimistische) Interpretation wäre, dass das Internet die Menschen unabhängiger von traditionellen Medien macht, die alles auf zwei Sätze verkürzen wollen. Eine weniger optimistische wäre der gerade häufig geäußerte Vorwurf, dass es den Protesten "eigentlich um etwas ganz anderes geht" - das entspräche aber überhaupt nicht der Wahrnehmung, die ich von den Protesten mitgenommen habe. Überzeugen tun mich bisher beide Interpretationen nicht.
Fazit: Falls hier Soziologen mitlesen, die sich der Bewegungsforschung verschrieben haben - die Stuttgart 21-Proteste sind sicher ein total spannendes Untersuchungsobjekt. Zweites Fazit: Vielleicht ist es auch möglich, gegen "Grundlastkraftwerke, weil sie den Ausbau der erneuerbaren Energien blockieren" Massen zu mobilisieren – oder anders ausgedrückt: Proteste mit komplexer Message können funktionieren.
Friday, October 1. 2010, 17:27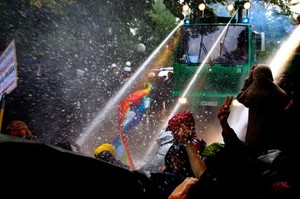 In the City Stuttgart in Germany, a massive police operation against environmental protesters took place. More than hundred people got injured at the eviction of a local park in order to cut down trees for the construction of a new train station. There are many reports about police violence. A pupils' demonstration took place before the event, so lots of young children got injured Also, the protest is deeply rooted in the local population, so many average citizens took part.
The project in question, Stuttgart 21, is the plan to bring Stuttgart's main train station underground. The current railhead station is planned to be replaced by a through station. The majority of the local population is opposed to that project for various reasons. The new station has only eight tracks while the current one has 16. Before the project has even started, the costs have more than doubled, currently five billion Euros are expected – but even the governor of Baden-Württemberg, Stefan Mappus, admitted that it probably will be more than seven billion. Critics expect it to be much more.
For that, local public transport services have been cut down in the area. Various other savings in social services were done in order to finance the megaproject, for example the subsidies for pupils' bus tickets have been cut. Stuttgart 21 is not a public transport project, it's a public transport cut down. It is mainly an urban construction project, because it will free a large area of rail tracks. The city's mayor Wolfgang Schuster promised a referendum after his last election if the costs of the project raise – he lied, the referendum never took place. Two years ago, environmentalists tried to enforce a referendum by collecting signatures. But it was not approved due to legal reasons – the laws for direct democracy in Baden-Württemberg are upon the worst in whole Germany.
In the park beside the station 300 trees need to be cut for the project. For that reason, activists from the envrionmental organization Robin Wood and others have built tree platforms in some of them in the past weeks. Many average people had declared in advance that they will take part on acts of civil dissobedience to protect the park and called themselves "Parkschützer" (park protectors).
The violent operation took place on the 30th september. Thousands of policemen evicted the park with water cannons, pepper spray and police batons. In the night, about 20 trees got cut. Afterwards, the local Interior Minister Heribert Rech defended the police act by saying that the protestors had thrown stones. Some hours later he had to admit that this was a false information. Still, and despite of hundrets who got injured, he and the local governor Stefan Mappus from the CDU (conservative party) claimed the police act was completely legitimate.
For (german) information see:
http://www.kopfbahnhof-21.de/
http://www.parkschuetzer.de/
http://www.bei-abriss-aufstand.de/
Please feel free to copy this article or parts of it. I want this information to spread.
Ecology
,
English
,
Politics
|
Comments (0)
|
Trackbacks (0)
Defined tags for this entry:
environment
,
mappus
,
police
,
policeviolence
,
protest
,
publictransport
,
rech
,
s21
,
schuster
,
stuttgart
,
stuttgart21
,
traffic
Monday, August 24. 2009, 15:45
I'm currently in Scottland on a trip through the UK. I'm trying to get some contacts to the much more active environmental movement here. For those who don't know, the UK has probably the most active climate movement in the world. I just came from a
gathering
in the Lake District and now I want to visit a
protest site against open cast coal mining in Mainshill
.
Afterwards I'll visit the
Climate Camp
.
It's quite interesting to see discussions here. The main topics at the moment are the third runway at the heathrow airport (see e. g.
Plane Stupid
) and the building of a
new coal plant in Kingsnorth
(done by the german company e-on). I heared quotes like »we shouldn't wait till they build the new plant, they're burning coal every day in the existing ones«, which is a large difference compared to the discussion in germany.
Ecology
,
English
,
Life
,
Politics
|
Comment (1)
|
Trackbacks (0)
Defined tags for this entry:
climate
,
climatecamp
,
co2
,
england
,
environment
,
klima
,
klimaschutz
,
klimawandel
,
kohle
,
kohlekraft
,
mainshill
,
scottland
,
uk
,
umwelt
(Page 1 of 1, totaling 4 entries)