Entries tagged as azerbaijan
Sunday, July 17. 2011, 22:30
I have promised to write something about the route we had planned to take for the way back from China to Europe. We had several variants in mind, I'll list them all. All of them, however, have in common that they start in Ürümqi (乌鲁木齐, ئۈرۈمچی) - and as I already wrote, the train line to Ürümqi seems to be a bottleneck - it was booked out for an unknown amount of time.
Ürümqi is a town in the Uyghur province of China in the north-west. It is north of the Taklamakan desert. China's population is not evenly spread through the country. Most of the population lives in the eastern part. The west is sparsely populated and Ürümqi is one of the very few big cities in the west.
From Ürümqi, there are several options to go to Kazakhstan - there exist trains and busses both to Astana (Астана, أستانا), the current capital of Kazakhstan, and Almaty (Алматы, الماتى), the former capital.
Variant a: Twice through russia (our preferred option).
From Astana, there is a train directly to Kiev (Київ) in Ukraine. The train goes twice through russia. Once it scratches it before Oral / Uralsk (Орал). I think it doesn't even stop there. The other time it goes through the Caucasus region.
It should've been possible to buy the train ticket in Astana and then get a transit express visa in the russian consulate. I read some reports suggesting that EU people were able to do this. However, I was not entirely sure about that: Usually, a russian transit visa only allows to pass the country a single time. I don't know if crossing the country twice would've posed any problems.
Astana to Kiev is quite long - stopping was a problem, because you can only get the transit visa once you have the ticket for the whole journey. So our plan was to take the train just to Kharkiv (Харків) in the east of Ukraine. This would've limited the train trip to a bit more than two days. Still a lot, but acceptable for me.
Variant b: Once through russia.
Oral/Uralsk (Орал) in western Kazakhstan has its own russian embassy. As stated above, the train from Astana to Oral already crosses russia, but there's a way round: One can first take the train to Atyrau (Атырау) and then to Oral. This way, you don't leave Kazakhstan. The advantage: Lots of options to make stops, no overly long train trips.
The problem with this variant was that I had almost no information about the consulate in Oral: I haven't read a single report online that any EU citizen tried or successfully applied for a transit visa there. I only found some people asking that question, but without answers. So it was quite unsure if this would work.
Variant c: Avoiding russia altogether (option we originally intended to take).
It is also possible to avoid passing russia altogether. One can go by train to Atyrau (like in variant b), but then take a train on to Aktau (Ақтау) at the caspian see. From Aktau, there is a
ferry service
to Baku in Azerbaijan.
Now, this "ferry" has its own problems: It has no regular schedule. In fact, from what I read its no real ferry at all, but a cargo ship. It starts when there's enough cargo. So you have to get there and ask every day if there will be a ship today. Waiting times rank between some days and two weeks. I had liked to take that option, because I like travelling by ship and I thought that sounded like an interesting experience.
From Azerbaijan, one could take a train to Tbilis in Georgia and continue by bus to Istanbul in Turkey. From there, there is a train to Austria (the orient express sadly doesn't exist any more).
We had our visas ready for Kazakhstan and Azerbaijan. Georgia and Turkey are visa free for EU citizens.
If you look at a map, you may notice that there's another option: Going from Kazakhstan to Turkmenistan and Iran. However, that would've imposed getting two more visa plus the feeling that travelling through Iran might be a risk. So I haven't really investigated that option very much.
Friday, July 15. 2011, 22:56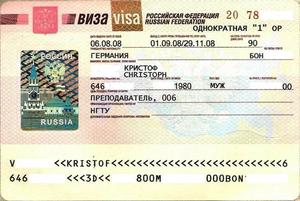 For our trip, we needed a couple of visa. I haven't applied myself for a visa any time before, so this was quite new to me. This was the most troublesome part of our travel preparations.
What I learned about getting visa:
- Every country has different rules for visa.
- You cannot apply for several visa at once - they take your passport. That means you have to add all the waiting times and cannot apply for more than one at once (this may seem trivial if you know the procedure, but I didn't).
- The information on the consulates webpages is often incomplete or inaccurate. (For example, if you have a 30 day visa: Does that mean 30 days starting from your entry to the country? Or 30 days starting from a fixed date you have to know in advance? Pretty relevant if you plan your trip.)
- If you phone a consulate, they won't answer. If you email a consulate, they won't answer.
- You cannot expect that anyone in the consulate is able to speak to you in a language you understand.
- You cannot expect that information you got from people in the consulate is correct.
- Usually, the best way to get information is searching the internet for people who have done the same thing before. There are specialized companies that arrange your visa, but the information you get from them is also often inaccurate.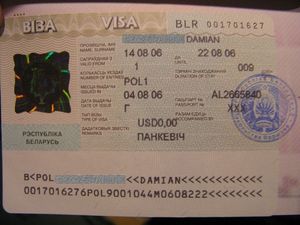 In the end, we applied for 6 different visa (Russia, Mongolia, Belarus, China, Kazakhstan, Azerbaijan), although we didn't use them all in the end (see previous blog entry).
The most difficult part was the russian one. That was, in the end, the reason we couldn't make the trip the way we wanted to (taking the transsiberian train for both directions with stops). They have a kind of bizzare regulation regarding invitations: You need an invitation to apply for a russian tourist visa. This has evolved a market for agencies that arrange invitations. That means you pay them that they do a fake booking in a hotel you will never see in reality and get an invitation from them.
Another anecdote: When asking for the "two-way"-problem in the embassy, they gave us a contact to a travel agency that will help us. This travel agency suggested we could get two passports and thus apply for two visa - that would've been illegal according to russian law. I had no intention in seeing a russian jail from inside, so I refused to choose that option.
You see, it's a pretty complex issue. But there's one thing one should mention, too: It's not the russian (or other countries) authorities that are to blame here. Russia is very willing to relax its visa rules. They
even suggested several times to abbadon the visa requirement for EU citizens at all
. They just have one requirement: The regulation should be relaxed for their citizens, too. Everything I've heared suggests that russians trying to get a visa for Germany and other EU countries face more difficulties than the other way round. It's the EU that is blocking here.
If you want visa regulations to be relaxed, you'd better not only blame other countries regulations. You should also ask how regulation is the other way round. Looking at the current political debate in the EU, I don't have much hope that the situation will improve soon.
(the pictures are from Wikimedia Commons
here (Russia)
and
here (Belarus)
and are public domain)
(Page 1 of 1, totaling 2 entries)