Saturday, July 21. 2012, 21:50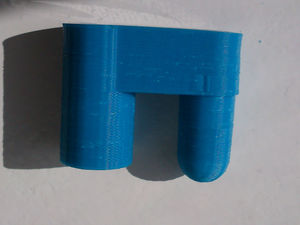 Several years ago I bought a kind of very simple wardrobe from IKEA. It's called Bardu and is made out of steel rods and a plastic covering. It stands on wheels.
There are small plastic piece that connects the plastic rods with the wheels. And one of them broke a while back. I went to IKEA and asked for a replacement part. They told me that they don't ship parts for such old items - but they have an offering quite similar to the Bardu that I could buy. Sadly, the design has changed and the wheels are directly connected, so no compatible replacement part. The E-Mail service from IKEA told me the same: No replacement parts for old products.
At this point I could've complained about the fact that we live in a crazy world where someone suggests to you buying a new piece of furniture because a small plastic part of the old one is broken.
I
posted a message in the RepRap-forum
asking for help. If you don't know the RepRap: It's a 3D-printer, creating objects based on computer models out of simple plastic. The RepRap is an Open Source project built partly out of parts printed on other 3D printers. The idea is: Everyone can (with enough time and passion) built his own RepRap, all the documentation is available online.
I quickly got a response from someone from France who was willing to give it a try and re-create the needed plastic part on his 3D printer. Some message exchange later I sent him the broken and a non-broken part. Today, I got my RepRap-printed replacement part. It fits in perfectly. I'm seriously impressed.
Object on Thingiverse
Update (2012/12/11):
I don't want to hide the fact that the whole issue turned out to be much trickier than thought. The original piece broke after a while. DeuxVis was so nice to experiment with likely more stable designs and sent me some more printed parts, but the first one already broke again. You can
read the details in the RepRap-forum
.
Friday, July 6. 2012, 00:33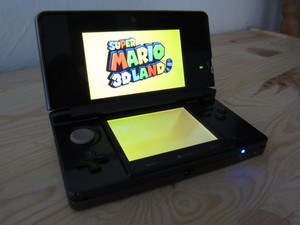 Ich spiele ja gelegentlich gerne ein gutes Videospiel. Und seit ungefähr 20 Jahren gerne jedes Spiel der Super Mario-Serie. Shigeru Miyamoto hat im vergangenen Jahr das neueste Werk fertiggestellt - Super Mario 3D Land. Die Videos, die ich gesehen hatte, sahen sehr vielversprechend aus.
Das Problem: Das Spiel ist für den Nintendo 3DS - und ich besitze keinen. Es ist nicht so, dass ich es mir nicht leisten könnte, mir so ein Gerät zu kaufen. Aber es erschien mir doch reichlich übertrieben - mit großer Warscheinlichkeit würde ich auf absehbare Zeit nur dieses eine Spiel spielen wollen. Wenn ich ein Spiel dann durchgespielt hab, ist mein Interesse, es nochmal zu spielen, in der Regel auch eher gering. Da der Nintendo 3DS noch relativ neu ist, ist auch ein gebrauchtes Gerät vergleichsweise teuer (etwas günstiger wird es auf ebay übrigens wenn man eins in Pink nimmt). Das hieße also eher abwarten, bis die Gebrauchtpreise in einigen Jahren günstig werden. Und überhaupt: Mein Interesse, die Menge an Zeug das in meiner Wohnung liegt und ich selten bis nie brauche, zu erhöhen, ist auch eher gering. Von jemand in meinem Bekanntenkreis, der einen 3DS hat, weiß ich gerade auch nicht.
Aber das große Internet ist so toll und hat eine Lösung für mich parat: Leihplattformen schießen gerade aus dem Boden - man nutzt Dinge gemeinsam und findet über das Internet Menschen, die gegen eine geringe Gebühr etwas ausleihen wollen. Bei
leihdirwas.de
habe ich mir - für einen sehr fairen Preis - einen 3DS mit Super Mario 3D Land geliehen. In meinem Fall quasi die perfekte Lösung.
(Page 1 of 1, totaling 2 entries)