Wednesday, December 28. 2005, 23:10
Second day, finally
uploaded some pictures
and just found some time to blog between two talks.
Yesterday the
We lost the war
talk. Maybe I'll write something more in german when I find time for it. In short: IMHO this was an obscure mixture of political nonsense. This should at least be clear when reading the article with similar content in the last »Datenschleuder«, where the author claims something like »till 9.11. hackers ruled the world and everything was good« (to cite, »The big corporations were at our merce, because we knew what the future would look like and we had the technology to built it).
Lars
wrote very drastically about it
.
Today, the first interesting talk was
5 Thesis on Informational-Cognitive Capitalism
. I think I didn't really get what the autor wanted to say (surely related to missing sleep and lack of motivation to listen to english), but he was at least quite entertaining.
Next was
Hashing Trusted Computing
by Rüdiger Weis, as always quite funny, Rüdiger maybe should become the first professional math comedian. The content is obvious, at least for regular readers of my blog: Trusted Computing is evil and SHA1 is broken.
There was a nice presentation by fukami and Markus Beckedahl about
the Sony BMG rootkit
. They presented a lot of information, Markus has also
collected it in his blog
.
Next one was
Technological art off the trodden tracks
by two media artists that presented art which is related to hacking subjects and suggested that media artists and hackers come more together to share thoughts and projects. I hope they'll put their materials online, they had a lot of videos from nice stuff.
Just came from
Learning cryptography through handcyphers
by Benno de Winter. It was a basic introduction to some simple algorithms, not really new to me, but the speaker was worth watching because of the fun factor.
More to come.
Tuesday, December 27. 2005, 12:36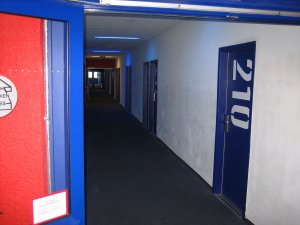 Just arirved at the
22th chaos communication congress
. Together with
Lars
I took the Nachtzug from Augsburg.
We are in a very nice hostel called
Generator Hostel
, which is very nice for a quite moderate price. Although we arrived at 8 o'clock in the morning, we already could enter our rooms and get a breakfast on arrival day. Very recommendable.
Pictures will follow
from time to time.
(Page 1 of 1, totaling 2 entries)